MAG DK DPS by Darkspawn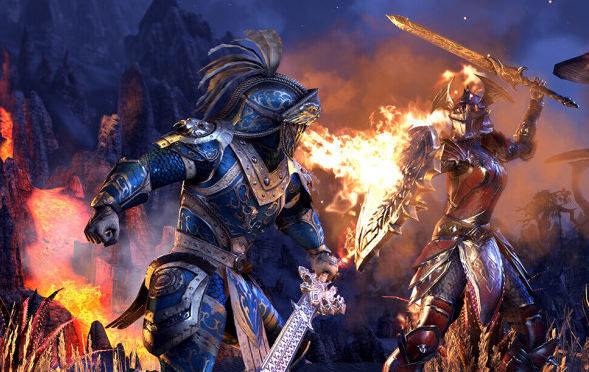 Mundus: Apprentice
Gear Setup (5/1/1) - All Divines:
MagDK's are back this patch and have multiple different setups that can be used with marginal DPS gains / losses. I have tested all of these setups and will rank them from highest to lowest dps. All of these setups are capable of hitting between 38k and 45k on a 3 or 6 mil dummy (with Apprentice) and high 40's to mid 50's in raids if all your gear is gold, has the correct traits, and your LA weave rotation is on point. I am writing the guides using
Siroria
and not
Perfected Siroria
as most players will not have access the perfected set immediately. Obviously use perfected if you can farm it.
Food: Clockwork Citrus Filet is BIS for Raids. If you can't get that then use Witchmother's Potent Brew
Potions: Essence of Spell Power - Ingredients: Lorkan's Tears + Lady's Smock + CornFlower + (optional) Water Hyacinth
Molten Whip or Flame Lash????? Yeah, you could go either way. I like Flame Lash for the Off Balance Proc. You will solo parse better with Molten Whip for sure, especially if you stack Ardent Flame abilities on your front bar. I just feel that Flame Lash is a little better in raids. That is a personal preference though.
Champion Points
The Apprentice: Elfborn 44, Elemental Expert 49, Spell Erosion 30
The Atronach: Staff Expert 27, Master-at-Arms 56
The Ritual: Thaumaturge 44
Thanks to Alcast, I have been using his CP and it works really well
Frontbar Skills: Flame Lash - Engulfing Flames - Burning Embers - Rearming Trap - Inner Light - Destro Ulti
Backbar Skills: Blockade of Fire - Eruption - Flames of Oblivion - Harness Magicka (Elemental Drain for parsing) - Inner Light - Standard of Might Ulti
If you are dying a lot the feel free to swap Harness Magicka and Rearming Trap. I have trap on the front bar for minor force up time since our base crit is TERRIBLE
Rotation (Real fights, remove Ele drain): Ele Drain, Flames of Oblivion right before you hit the dummy.
Lay Down Trap then Eruption (start dps on back bar), Light Attack, Blockade, Bar swap
Engulfing Flames, Light Attack, Burning Embers, Light Attack, (Pending Elf bane or No Elf bane) Between 4 to 6 Flame Lash + Light attack weaves, Barswap
Blockaid, light attack, Flaims of Oblivion, light attack, Standard, Barswap
Engulfing Flames, Light attack, Burning Embers, light attack, Trap, light attack, Between 2 to 4 Flame Lash + Light attack weaves - Basically Barswap when there is 1 second left on Blockade and re-apply dots on cooldown

Siroria + Burning Spell Weave
Typical 3mil parse is around 41-44k. It's also important that all of your Burning Spell Weave pieces are Gold as the 5 piece bonus scales with the armor color. If you can't get Burning spell weave then
Julianos
is a fine alternative. Jewelry can be either BWS or Siroria.
5 Light + 1 Heavy + 1 Medium
5 Piece Siroria all divines
Front Bar: 5 piece Burning Spell Weave(staff) all divines
2 Piece Zaan
Frontbar - Burning Spell Weave Inferno Staff Infused Fire Enchant
Backbar - Maelstrom Inferno Infused Weapon Dmg Enchant
Siroria + Elfbane
5 Light + 2 Heavy
5 Piece Elfbane 3x Jewelry + 2 body divines (it's a good idea to keep one ring or body piece with healthy trait
Front Bar: 5 Piece Siroria (staff) all divines
2 Piece Zaan LIGHT Armor
Frontbar: Siroria Inferno Infused Fire Enchant
Backbar: Maelstrom Inferno Infused Weapon Dmg Enchant